Pengolahan Air Limbah Industri Bakery Menggunakan Sistem Stripper-Lumpur Aktif
Keywords:
surfaktan, air limbah bakery, stripper, lumpur aktif
Abstract
Air limbah industri bakery memiliki karakteristik kandungan organik, lemak, dan surfaktan yang tinggi. Keberadaan surfaktan pada air limbah dapat mengganggu proses degradasi kandungan organik dan lemak pada instalasi pengolahan air limbah khususnya pengolahan secara biologis/lumpur aktif. Studi ini membahas tentang performa integrasi system stripper-lumpur aktif yang diaplikasikan untuk mengolah air limbah industry bakery dalam skala full scale. Proses stripper dilakukan dengan menggunakan kolom yang diintegrasikan dengan bak aerasi pada kisaran HRT (waktu tinggal) 24 jam. Proses stripper memberikan efisiensi enurunan COD dan surfaktan tertinggi sebesar 96% dan 80%. Proses lumpur aktif digunakan untuk mengolah keluaran dari proses stripper dengan karakteristik lumpur aktif MLSS 4000-4500 mg/L, FM/ rasio 0,268, sludge age 11 hari dan HRT 24 jam, proses degradasi dengan lumpur aktif ini mampu memberikan efisiensi penurunan COD dan surfaktan sebesar 79% dan 88%. Hasil penelitian menunjukkan bahwa unit IPAL dengan menggunakan sistem stripper-lumpur aktif memiliki efisiensi penurunan COD, TSS, dan BOD sebesar 98,9%, 87,9%, dan 96,4%, sehingga sistem ini merupakan teknologi yang tepat untuk diterapkan pada pengolahan limbah industri bakery.
References
Bitton, G., 2010. Wastewater Microbiology: Fourth Edition., Willey-Liss. ISBN: 978-0-470-63033-4
.
.
.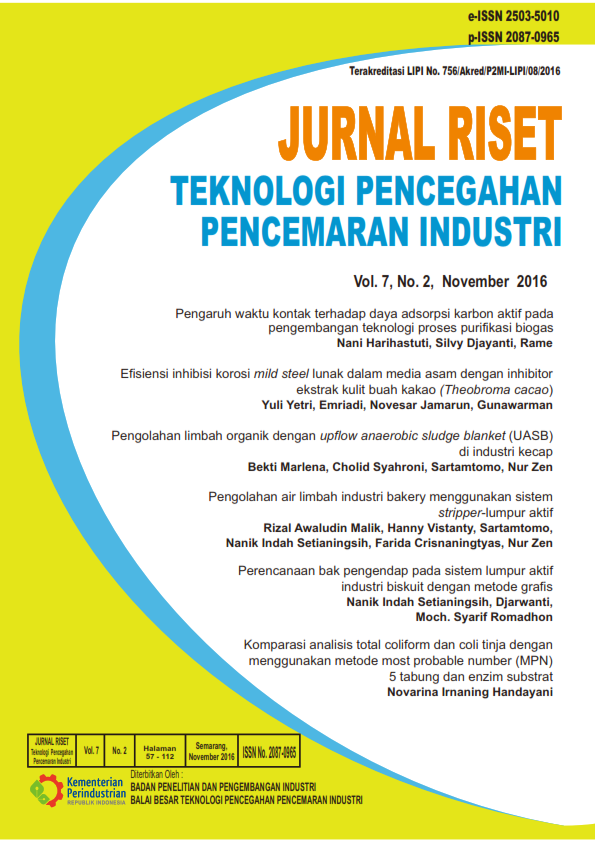 How to Cite
Malik, R. A., Vistanty, H., Sartamtomo, Setianingsih, N. I., Crisnaningtyas, F., & Zen, N. (2016). Pengolahan Air Limbah Industri Bakery Menggunakan Sistem Stripper-Lumpur Aktif. Jurnal Riset Teknologi Pencegahan Pencemaran Industri, 7(2), 89-98. https://doi.org/10.21771/jrtppi.2016.v7.no2.p89-98
Copyright (c) 2016 Balai Besar Teknologi Pencegahan Pencemaran Industri
This work is licensed under a Creative Commons Attribution 4.0 International License.
Jurnal Riset Teknologi Pencegahan Pencemaran Industri provides immediate open access to its content on the principle that making research freely available to the public to supports a greater global exchange of knowledge.
Copyright Notice
Authors who publish with this journal agree to the following terms:
Authors retain copyright and grant the journal right of first publication with the work simultaneously licensed under a Creative Commons Attribution License that allows others to share the work with an acknowledgement of the work's authorship and initial publication in this journal.
Authors are able to enter into separate, additional contractual arrangements for the non-exclusive distribution of the journal's published version of the work (e.g., post it to an institutional repository or publish it in a book), with an acknowledgement of its initial publication in this journal.
Authors are permitted and encouraged to post their work online (e.g., in institutional repositories or on their website) prior to and during the submission process, as it can lead to productive exchanges, as well as earlier and greater citation of published work
Abstract viewed = 30 times