ISOLASI BAKTERI HETEROTROFIK ANAEROBIK PADA PENGOLAHAN AIR LIMBAH INDUSTRI TEKSTIL
Keywords:
textile wastewater, anaerobic, isolation, degradation
Abstract
Pengolahan air limbah secara anaerob merupakan salah satu metode pengolahan biologi yang dapat mengolah limbah tekstil. Mikroorganisme yang mendominasi dalam proses tersebut adalah bakteri fakultatif dan anaerob obligat, dengan produk akhir gas-gas seperti karbondioksida dan metana. Dalam proses degradasi zat organik dalam air limbah industri tekstil secara anaerobik
akan melibatkan berbagai jenis bakteri anaerobik baik dalam tahap hidrolisa, tahap asidigenesis maupun tahap metanogenesis. Tujuan penelitian ini adalah untuk mengetahui kultur mikroorganisme anaerobik spesifik yang mampu mendegradasi limbah tekstil dan dilakukan dengan cara isolasi kemudian dilanjutkan dengan pengkayaan (enrichment) bakteri dan uji kemampuan mendegradasi bahan cemaran dari air limbah industri tekstil yang mengandung amilum, parafin, selulosa, dan warna. Secara keseluruhan didapatkan 29 (dua
puluh sembilan) isolat bakteri. Dari isolat tersebut 12 (dua belas) isolat terbaik yang mampu mendegradasi amilum adalah BDLA 5, BDLA 4, BDLA 6, mendegradasi parafin adalah BDLP 3, BDLP 1, BDLP 2, mendegradasi selulosa adalah BDLC 2, BDLC 5, BDLC 1, dan mendegradasi warna adalah BDLW 3, BDLW 7, BDLW 2.
References
Aslam MM., Baig MA., Hassan I., Qazi IA., Malik M., Saeed H., 2004, Textile wastewater cheracterization and reduction of its BOD & COD by oxidation, EJEAF Vol 3, pp. 804-811.
Beguin P., Aubert JP., 1994, The biological degradation of cellulose, FEMS Microbiology Rev. 13, pp.25-58.
Beguin P., Millet J., Chauvaux S., Salamitou, Tokatlidis K., 1992, Bacterial cellulases, Biochem. Soc Trans 20, pp. 42- 46.
Dwijoseputro, 2005, Dasar-dasar mikrobiologi, Penerbit Djambatan, Jakarta.
Joanne Bell, Chris A. Buckley, 2003, Treatment of a textile dye in the anaerobic baffled reactor,, Journal Home 29(2).
Jutono, 1980, Pedoman praktikum mikrobiologi umum, Departemen Mikrobiologi Fakultas Pertanian UGM, Yogyakarta.
Keane J., D Verde, 2008, The role of textile and clothing industries in growth and develeopment strategies
Leschine SB., 1995, Cellulose degradation in anaerobic environments, Ann~ Rev Microbiol. 49, pp. 399-426.
Moenir M., Djarwanti, Syahroni C., Rame, Marlena B., Budiarto A., 2015, Teknologi hibrid anaerobic-wetland untuk pengolahan air limbah industri pencucian jean, Prosiding Workshop Hasil Litbang Unggulan Kementerian Perindustrian
Savin Irina, Butunaru Romen, 2008, Wastewater characteristic in textile finishing mills, Env Eng and Management Journal 7(6), pp. 859-864.
Stolp H., Starr MP., 1981, Principle of isolation, cultivation, and conservation of bacteria: The Prokaryots, Springer, Verlag Berlin Heidleberg.
Stronach SM., Rudd T., Lester JN., 1986, Anaerobic digestion processes in industriall wastewater treatment, Springer, Verlag Berlin Heidleberg.
Simmi Goel, 2010, Anaerobic baffled reactor for treatment of textile dye effluent, Journal of Scientific & Industrial Research Vol 69, pp. 305-307.
Volk WA., Wheeler MF., 1988, Mikrobiologi Dasar, Jilid II, Terjemahan Soenatomo Adispemarto, Penerbit Erlangga, Jakarta.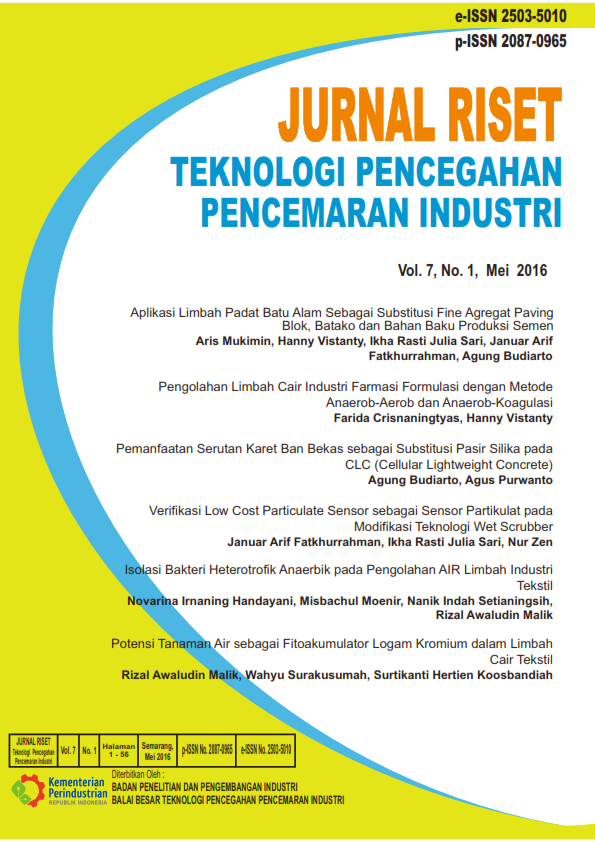 How to Cite
Handayani, N. I., Moenir, M., Setianingsih, N. I., & Malik, R. A. . (2020). ISOLASI BAKTERI HETEROTROFIK ANAEROBIK PADA PENGOLAHAN AIR LIMBAH INDUSTRI TEKSTIL. Jurnal Riset Teknologi Pencegahan Pencemaran Industri, 7(1), 39-46. https://doi.org/10.21771/jrtppi.2016.v7.no1.p39-46
Copyright (c) 2020 Novarina Irnaning Handayani, Misbachul Moenir, Nanik Indah Setianingsih, Rizal Awaludin Malik
This work is licensed under a Creative Commons Attribution-NonCommercial-ShareAlike 4.0 International License.
Jurnal Riset Teknologi Pencegahan Pencemaran Industri provides immediate open access to its content on the principle that making research freely available to the public to supports a greater global exchange of knowledge.
Copyright Notice
Authors who publish with this journal agree to the following terms:
Authors retain copyright and grant the journal right of first publication with the work simultaneously licensed under a Creative Commons Attribution License that allows others to share the work with an acknowledgement of the work's authorship and initial publication in this journal.
Authors are able to enter into separate, additional contractual arrangements for the non-exclusive distribution of the journal's published version of the work (e.g., post it to an institutional repository or publish it in a book), with an acknowledgement of its initial publication in this journal.
Authors are permitted and encouraged to post their work online (e.g., in institutional repositories or on their website) prior to and during the submission process, as it can lead to productive exchanges, as well as earlier and greater citation of published work
Abstract viewed = 680 times